FAQ products and compositions
Frequently asked Questions

Commitment
environmentally friendly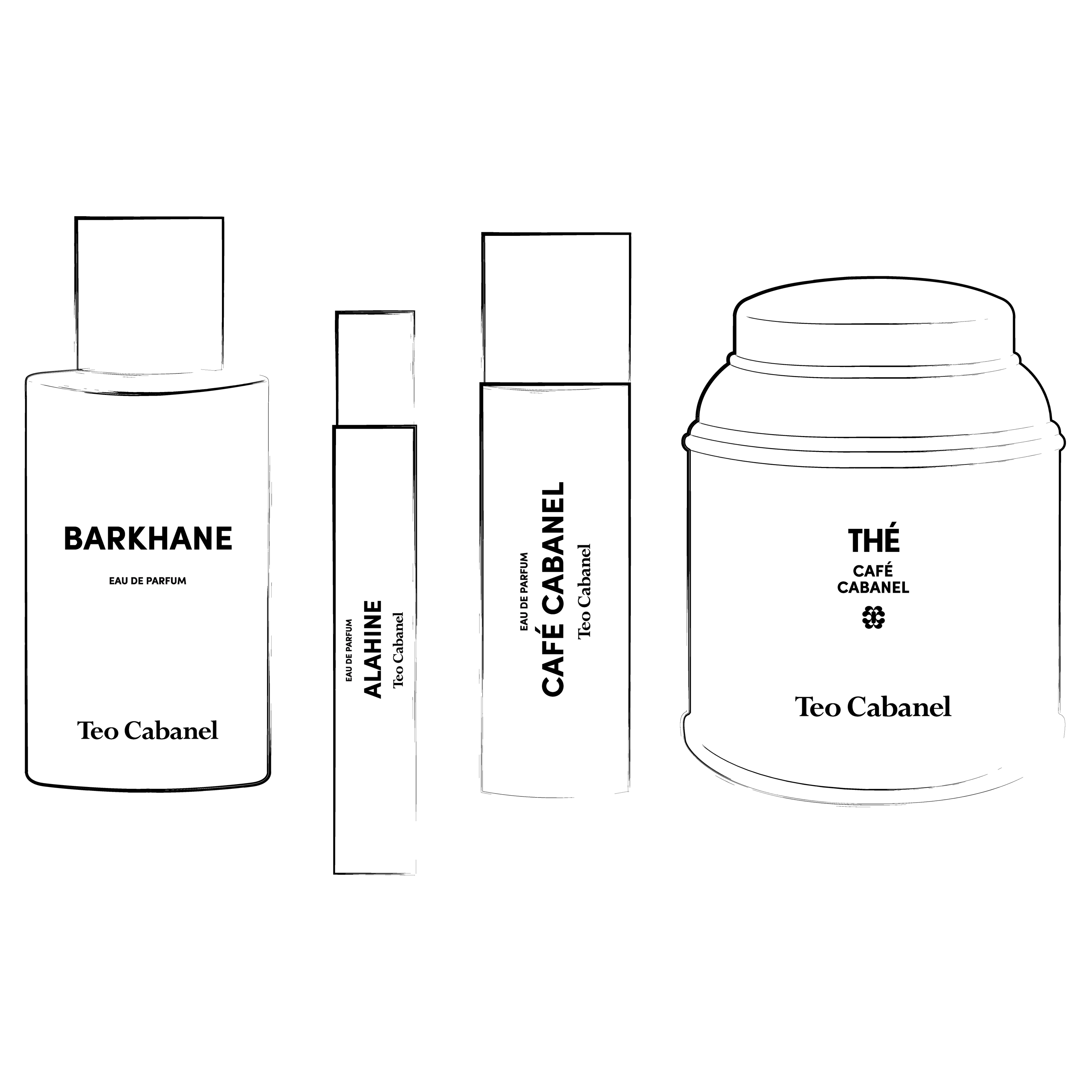 Frequently asked Questions

Eco-responsible commitment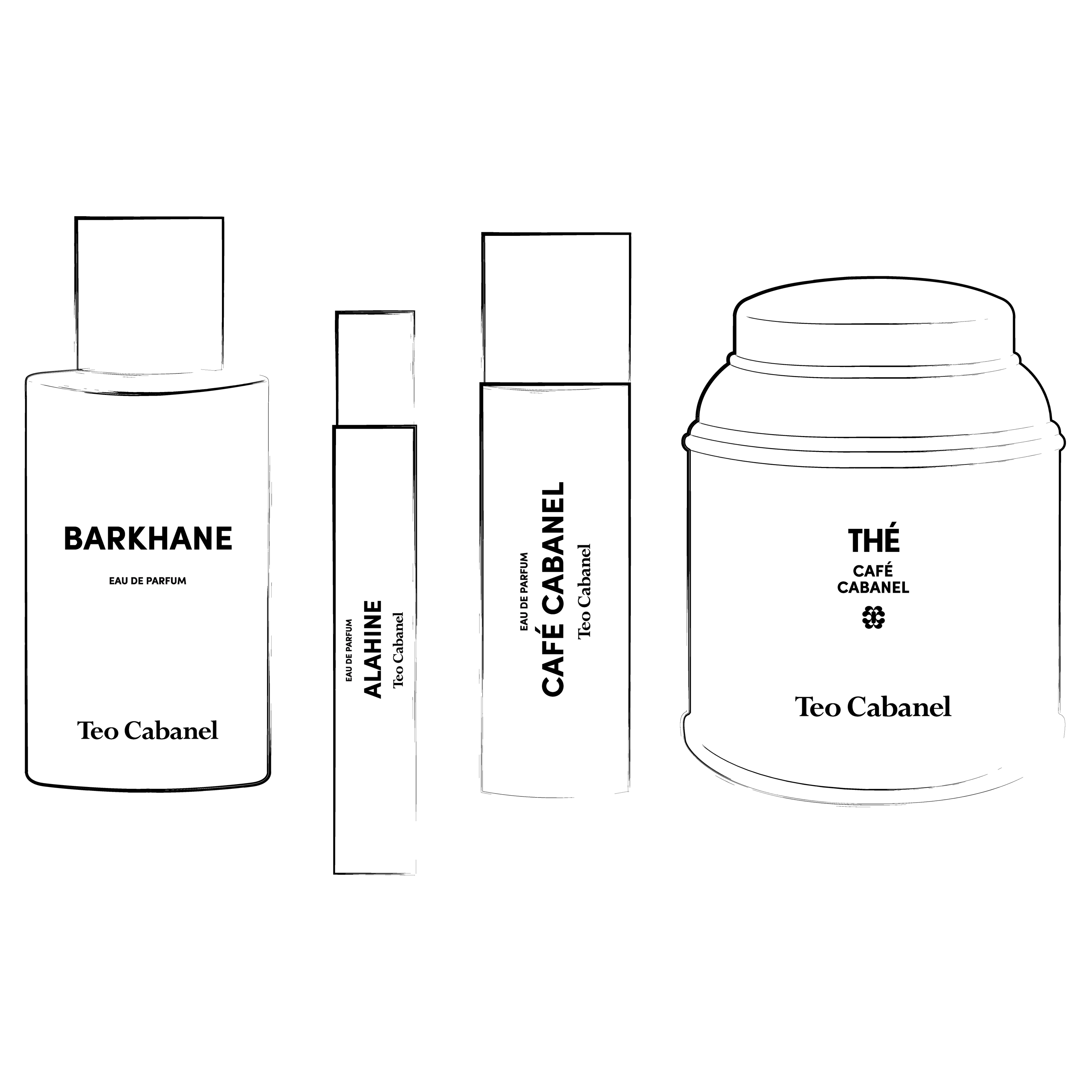 Eco-responsible commitment
01. Where are your perfumes and accessories
made
?
Our perfumes and accessories are 100% French . Manufacturing in France means contributing to the preservation of French know-how. It also means supporting our beautiful companies and being able to offer you quality products.
02.
What is your point of view on animal materials? Are your products
vegan
?
Our perfumes do not contain any animal substances . We refuse any ingredient that could have been tested on animals. We do not test our products on animals. This is also a practice banned in Europe since 2013. We are part of PETA's " Global beauty without bunnies " program.
03.
Are your packaging
responsible
?
We are committed to creating clean, recyclable and reusable packaging.
The boxes
The cardboard used for all our boxes is manufactured and transformed in France and has a percentage of recycled fibers of 91.04%. The paper that covers it is made from 80% FSC-certified recycled fibers and 20% FSC pure cellulose. The foam is biodegradable and recyclable. The inks used for the prints are vegetable. The glue is also vegetable. In addition, we are committed to presenting our perfumes in pretty boxes to make you want to keep them and store your small everyday objects/treasures!
The bottles
Our bottles are made of glass. Glass is a perfectly eco-responsible material because it is infinitely reusable and recyclable. We work with one of the largest glassmakers, ISO 14001 certified, which is committed to a strong policy of sustainable development. In perpetual improvement, its productions are carried out in a responsible approach aimed at minimizing their environmental impact: reduction of water consumption, use of green energies, investment in electric ovens to gradually replace gas emission ovens.
Hoods
We have chosen to use 2 very distinct materials for our covers. The caps of our "Les Instants Parfumés" collection are made of eco-zamac, in Italy. Eco-zamac is an alloy made from 100% recycled zamac. The varnish used on these covers has a water base. No chemical solvents are involved in the manufacture of our hoods. It is estimated that the production methods used to manufacture our eco-zamac covers reduce CO2 emissions by 33%. They consume 37% less water, 45% less gas and 13% less energy.
For information, zamac is an alloy made up of 95% zinc and the remaining 5% copper, aluminum and magnesium in varying proportions). However, these different minerals are not only infinitely recyclable but are also entirely natural raw materials.
The caps of our "Les Expressions Parfumées" collection are made of bio-resin (resin of bio-sourced vegetable origin), they are the subject of very sharp development. All these caps are made in France, in the Jura by a workshop certified ISO 14001 and concerned about sustainable development.
Under-bottle labels
100% eco-responsible, they do not contain plastic. They are made in France from wood residues and using green energy.
The pumps
We have selected a more environmentally friendly pump model. Our pumps are therefore POM-free. The manufacturer also undertakes to consume less material for the manufacture of this pump. Material usage is -33% on the spray model we use.
Textile pouches
Our textile pouches are made in a jacquard mixing recycled cotton and recycled polyester yarns. Our jacquards are woven by a company based in the Lyon region. The fabrics it produces are among the cleanest on the planet. Resolutely committed to sustainable development, our manufacturer is behind the creation of the Alter-tex sector (French responsible textile sector). It is also certified by the GOTS label and recognized as Origine France Garantie. The cord is made of organic cotton. These pouches are made in France by a workshop located in the Center region.
04. Why don't you offer 100% natural
perfumes
?
At Téo Cabanel, we are committed to beautiful perfumes and we have therefore chosen a fair balance between synthetic and natural. We are passionate about natural beauty but we also want to highlight the new and the beautiful synthesis. The one that wants to be cleaner and therefore in line with our values .
Because, we must not forget, synthesis is very precious for the perfumer. It is necessary for the good balance of a perfume. It gives it finesse, character and hold. In a perfume, synthetic materials are at the service of nature, they enhance it!
Synthesis offers us the possibility of reproducing olfactory notes that have no natural equivalent. This is the case for certain flowers (hyacinth, lily of the valley…), fruits (apricot, strawberry…) and wood (cashmere, cashmeran…) but also food scents (almond, chocolate…) and atmospheres (marine notes, cut grass, etc).
It also made it possible to replace the animal notes essential to the perfumer's palette. Formerly used naturally, ambergris, musk, civet and castoreum are now prohibited. They have been replaced by their synthetic equivalent. Synthesis therefore has a protective role here.
We always favor natural over synthetic. No question, for example, of choosing a rose or a synthetic jasmine when we have the most beautiful roses or the most beautiful jasmines at our disposal! But, it sometimes happens that a synthetic material seems to us more ethical than its natural equivalent. In this case, we do not hesitate to favor synthesis.
It is therefore a real search for the right balance, the one that allows us to offer you "clean" perfumes, good for you and as respectful as possible of our planet.
05.
Why do very few houses offer perfumes with a high

natural content

?
Creating a perfume with a high content of natural raw materials is very technical. Natural raw materials are also more expensive than synthetic materials. Motivated by a goal of perpetually increasing their margins, perfume houses have gradually replaced natural products with synthetics. For example, a kilo of rose essential oil (like the one used in the majority of our perfumes) fluctuates between €6,000 and €7,000 per kilo. These prices reflect the scarcity of these products but also their low yield. Indeed, it takes 3 to 5 tons of rose petals to obtain 1 liter of essential oil. At Téo Cabanel we have chosen to give pride of place to the natural and not to worry about these costs. We systematically select the finest qualities of natural raw materials.
06. What synthetic
ingredients are
used in your perfumes?
The synthetic molecules we use are carefully selected, added to the composition only when they are really necessary. Sometimes we also choose to highlight a "new", daring or original synthetic material, a new olfactory proposal that we want to share with you. In this case, we ensure that this material is clean and biodegradable.
For example, for musks , we weren't sure we wanted to use them because they are usually not very biodegradable. We therefore studied them one by one to discard those that were not clean enough and to select the cleanest and most bio-degradable of them. New "clean" proposals are emerging and we want to give ourselves the opportunity to explore them.
Finally, it can also happen that a natural raw material does not seem to us to be manufactured with respect for the producers and our ethics. In this case, we will prefer to use it in its synthetic version. We will then take care to explain this choice to you, in complete transparency .
07.
They say going natural isn't necessarily best for
the planet.
Is it true ?
Unfortunately, today there is no perfect solution. The synthesis has improved but is not yet perfect. The natural comes from the ground so reassures. But if we dig, we still find some gray areas.
Natural materials can indeed be blamed for their carbon footprint. Cultivated in the 4 corners of the world, they must indeed travel to come to us. Without them, we couldn't create perfumes and obviously they can't all grow in France or even in Europe! We have chosen to offset this carbon footprint by committing ourselves to associations.
There is also the question of yield and overuse of the soil, that of working conditions on the farms. But the natural is also a source of employment. It supports the local economy. We are very vigilant, and we are committed to remaining honest and responsible in our choices. Each of the materials we select for our perfumes is evaluated according to quality, traceability, eco-responsibility and ethical criteria in order to offer you the best option.
Once again, it's all about finding the right balance . This is how we manage to offer you "clean" perfumes.
08.
Are your perfumes
"clean"
in their composition?
We formulate fragrances that respect your skin. We want safe products. This is why our creations do not contain dyes, UV filters or stabilizers. You won't find parabens and phthalates either. And most importantly, they are made from organic wheat alcohol. Finally, they benefit from a short allergen list.
09.
What alcohol is used in your
perfumes
?
All our perfumes are made from organic wheat alcohol. It is therefore a 100% vegetable and organic alcohol. It is therefore free of pesticides.
10.
What is the
INCI list?
What is she saying ?
INCI is the abbreviation of "International Nomenclature of Cosmetic Ingredient". This list appears automatically on each cosmetic product and is used to describe its composition. It mentions potentially irritating, allergenic or dangerous ingredients. At Téo Cabanel , we ban controversial ingredients and are committed to offering you healthy formulas. Most of the ingredients appearing on our INCI list are allergens. They do not come from synthetic raw materials and are not added voluntarily to our compositions. These are mostly molecules naturally present in the natural raw materials that make up our perfumes. For example, Geraniol makes up a major part of rose oil and is also present in essential oils of geranium and lemon. Just like the citronellol also present in these same essential oils (geranium and lemon). You will find the detailed INCI list of each of our perfumes in its description.
11.
Why do some perfumes change
color
from one production to another?
Our perfumes are largely composed of natural raw materials . These are all plant materials from nature. Their colors change according to the productions due to meteorological factors. Indeed, the temperature, the level of sunshine as well as the bad weather have a direct impact on the productions and therefore on the color of the essential oils.
12.
How do you set your
prices
?
Our mission is to offer you the most beautiful perfumes at the fairest prices possible. By reducing intermediaries, limiting our distributors to a few select partners, and accepting much lower margins than those usually practiced by the industry, we can offer you the fairest prices. These prices can only be fair if they remain stable and are not subject to big discounts. This is why we never offer aggressive discounts. We will offer archival auctions a maximum of once or twice a year. They will concern old parts whose design has been renewed. We are also committed to fair prices by choosing not to increase our prices despite the ever-increasing increase in raw materials. Our prices have not been increased since 2012.
If you have another question our customer service is there to help you by chat, email, phone or on Instagram.