Olfactory Portrait
TOP NOTES
Neroli, Aldehydes, Clean Accord
MIDDLE NOTES
White Flowers, Heliotrope, Rose
BASE NOTES
White Musks, Sandalwood
The use of clean, biodegradable musks, processed very differently from conventional musks. The choice of an Ambroxan derived from green chemistry.
Working with musks in a new way to offer a "clean" scent, an invitation to well-being. A musk that could be worn like a white T-shirt for a chic simplicity.
The chic simplicity of soap bubbles and cleanliness captured in a bottle. An ultra-fresh fragrance like no other. Some Neroli, a light floral touch, a sillage empowered by radiant musks that bring velvet and comfort by melting on your skin... ❝ Et Voilà! ❞, a modern perfume imagined as a feel good gesture only for you, a must have for your everyday routine.
ALCOHOL DENAT, PARFUM (FRAGRANCE), AQUA, LINALOOL, BENZYL SALICYLATE, COUMARIN, LIMONENE, GERANIOL, BENZYL BANZOATE, FARNESOL, BENZYL ALCOHOL
Close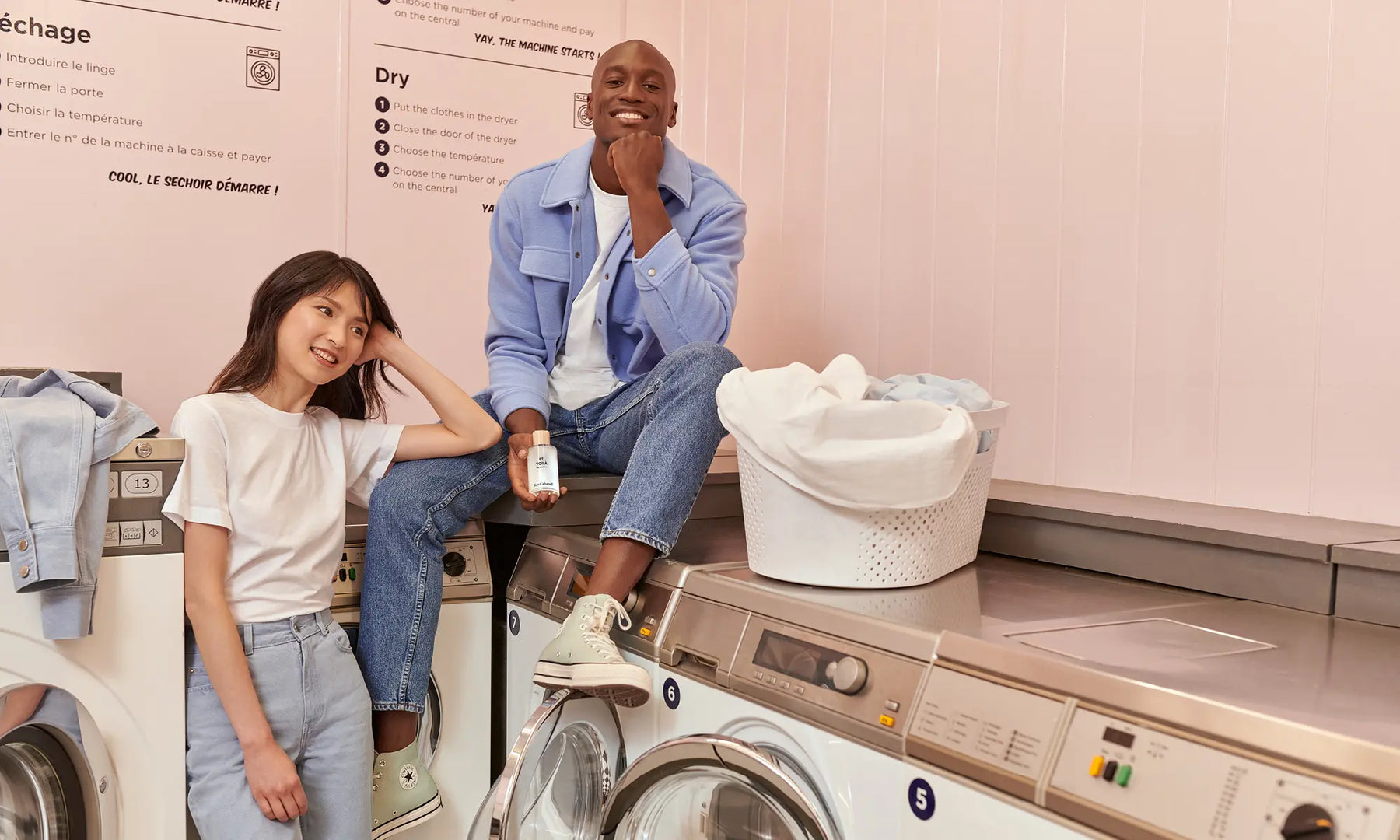 Clean & Vegan, Organic Wheat Alcohol, Recyclable Packaging and Made in France.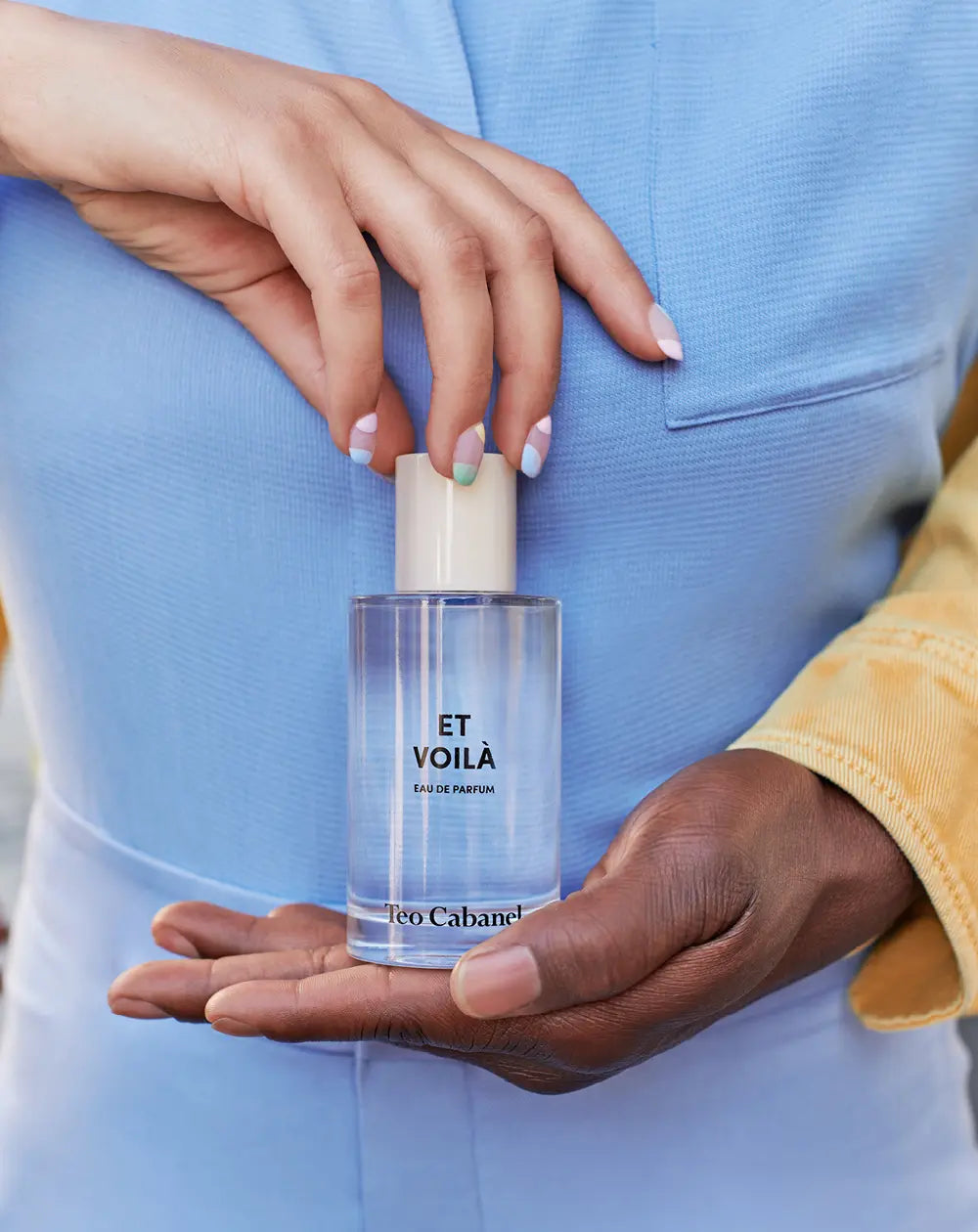 Ambroxan
We use Ambroxan DL, 70% of which is derived from green chemistry and 100% biodegradable. Ambroxan brings an animalic, amber facet to the woody notes. It is an excellent fixative that prolongs the fragrance's sillage. It replaces ambergris, an animal raw material originally derived from sperm whales, but whose use has been discontinued for obvious ethical reasons and the desire to ban all animal matter from compositions.
White Musks
Musk was originally an animal substance. Fortunately banned, it has been replaced by white musk: a synthetic molecule originating from organic research. According to various studies, synthetic musks, most of which are polycyclic, are very poorly biodegradable, if at all. We have chosen to use macrocyclic or linear musks, which are vegan and environmentally friendly. White musks have retained the sensual, tenacious "skin-glue" scent of animal musk. In Et Voilà, the musky accord is made up of a bouquet of musks.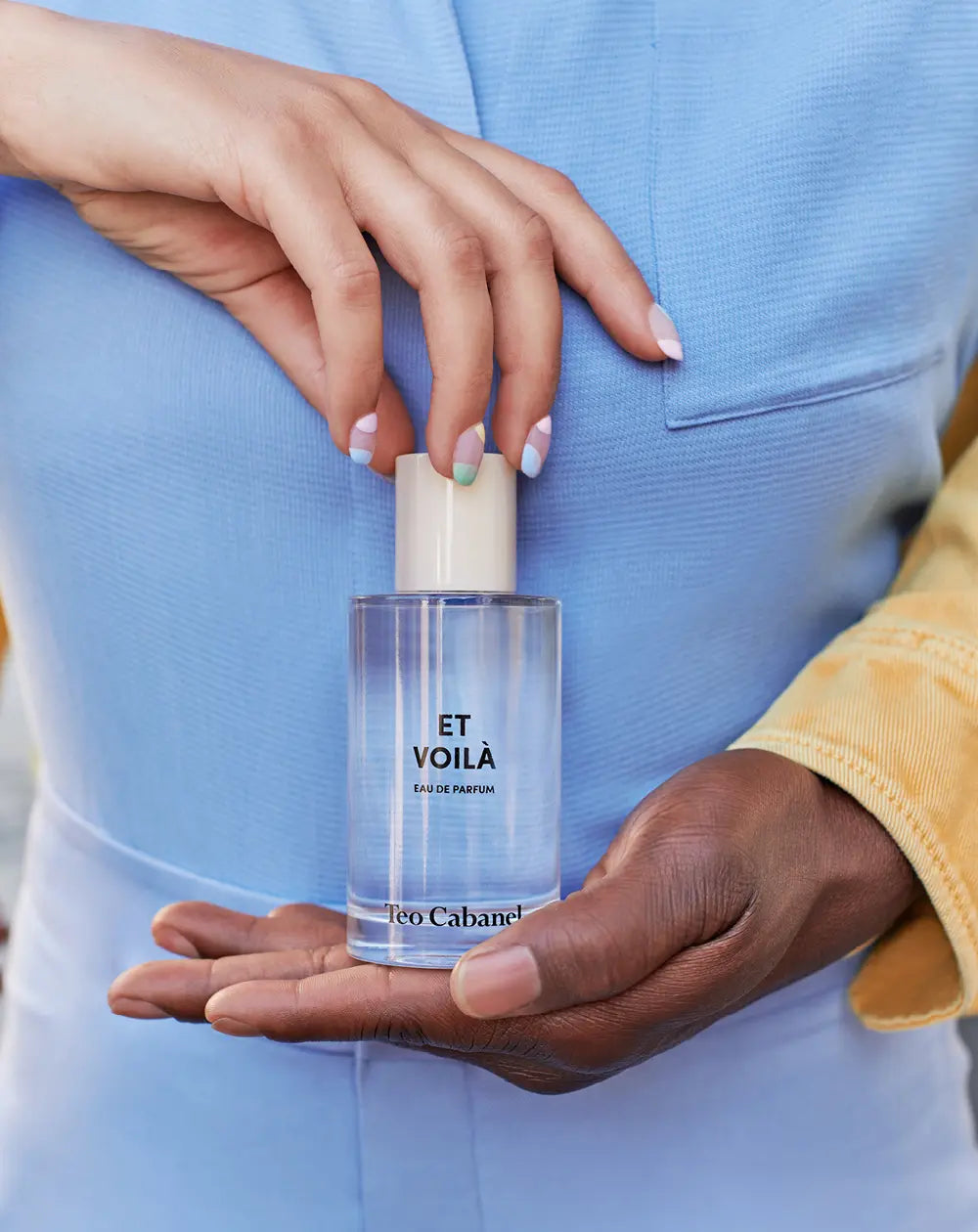 the new perfume routine
Perfume yourself differently and create the perfume routine that suits you. Match each moment, season or mood with a different scent. Combine our fragrances and match them with our accessories and scented or perfumable objects, for a personalized routine that suit your mood.
Add to cart
Add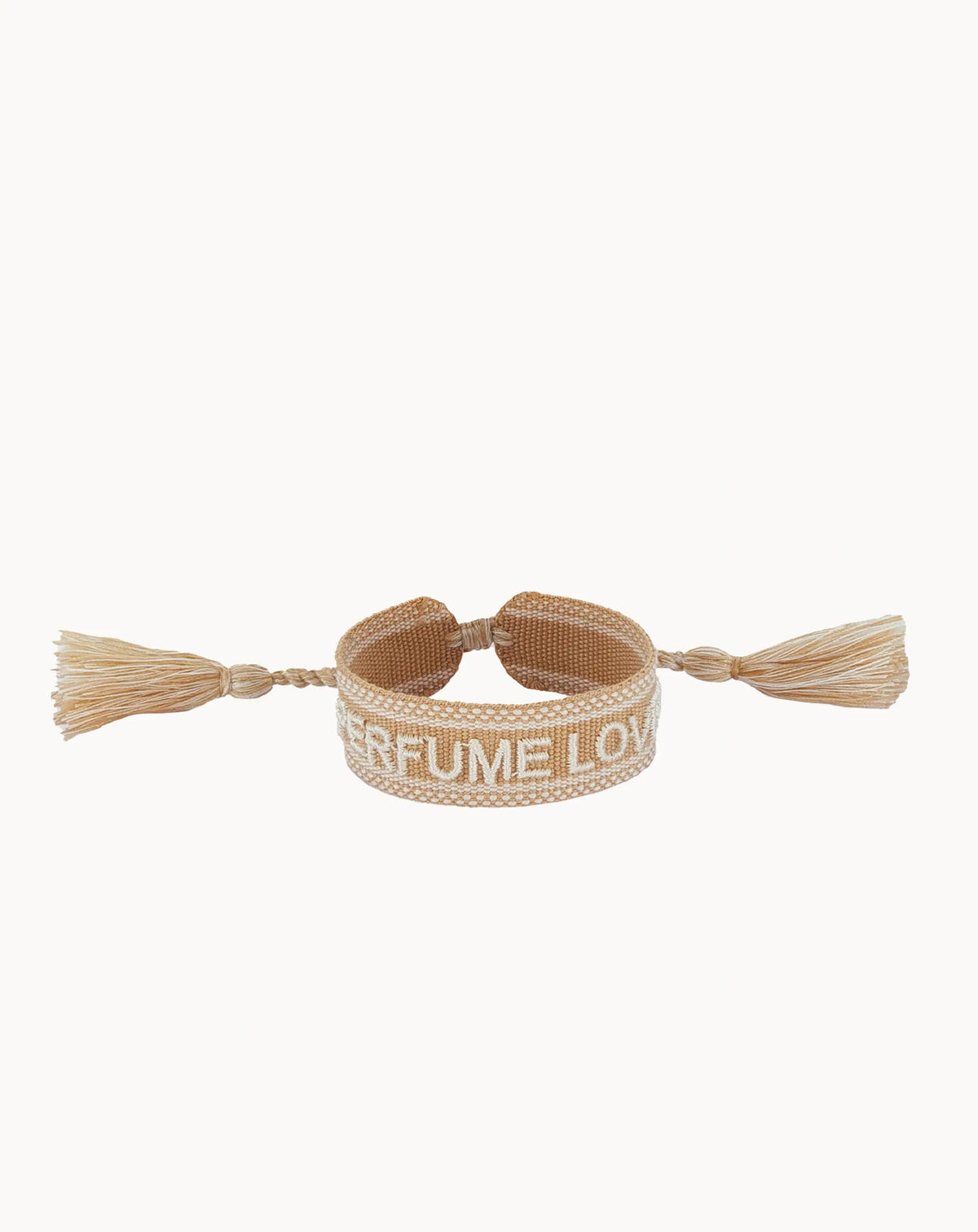 BRACELETS
The Special Touch
Add to cart
Add
Coup de cœur ♥️
Après avoir découvert ET VOILÀ dans le set decouverte, je suis tombée raide dingue. Une fragrance peu commune, à tel point qu'il est difficile de la décrire. En revanche, quand je la porte, je me sens particulière. Et j'aime bien cette sensation.
Votre message nous touche profondément. Nous sommes absolument enchantés que vous ayez découvert votre coup de cœur parmi notre collection de parfums (et surtout, que notre parfum Et Voilà ait su vous faire ressentir cette expérience si spéciale !). :)
ET VOILA
Hola!
Ame este perfume!!
Es una fragancia hermosa. Tiene una apertura limpia, y un desarrollo que se mantiene en el tiempo.
El tiempo de entrega fue breve, y llego todo en perfecto estado.
Gracias por las muestras!! ❤️
Muchas gracias por tu apoyo y por compartir tu experiencia positiva! :)
I haven't receive my package yet
No he recibido el perfume aun, intento comunicarme con vosotros y nada, esta es la segunda vez que me pasa con vosotros. La orden es #12796 y el numero de seguimiento es CB836432778FR
Hello, I'm sorry for this negative experience. Thank you for contacting our customer service. I'm glad to see that you've finally received your package. :)
Love love love
One of my favourites. Such a nice and cozy clean scent. I just want to spray it all the time. I feel like the difference between this clean scent and all the others is the type of florals that are used, it just gives it this really special touch. Absolutely amazing.
Delighted to hear it's one of your favorites! We take great care in selecting our ingredients for a unique experience. Thank you for your support! :)
I wanted a very intimate gesture, a fragrance that invites to well-being. I told perfumer Patrice Revillard that I wanted to prolong the soothing sensation one experiences after a relaxing evening shower. Together, we worked on a soapy, comfortable and soothing musk, capable of melting into the skin while diffusing beautifully.
Caroline Ilacqua
Free Shipping
From 50€ purchase in France & European Union
Free Samples
3 complimentary samples included in each order
Easy Return
Free trial dose to test the fragrance on your skin before opening it